Find us
Using public transport (SL):
Buses no 2 or 515 from subway station "Odenplan" to "Sveaplan".
For time tables see sl.se.
Bus 50 from Frescati campus or subway station "Universitetet" to "Roslagstull", approx. 10-15 min walk.
You can also walk (15 minutes) from subway stations "Odenplan" or "Rådmansgatan" to Sveavägen 160.
The commuter train ("Pendeltåg") also stops at Odenplan.
Walk towards the high building (Wennergren's center). To the right of Wennergren's center you see a square white building. That is the department.

By car:
Go to one of the big roundabouts "Roslagstull" or "Norrtull". Look for the high building "Wennergren Center". Follow the signs to "Wenngergren's center". Go right directly after you have turned off towards "Wennergren's center" tower. There you find the Department of Social Work in a white building.
There is parking outside the house. Staff and students get a discount on the parking fee. If you are a student, contact your student administrator for a permit. If you are a guest of the department, contact the caretaker.
On the map below the department is named "Stockholms universitet Sveaplan".

GPS: Sveavägen 160, Stockholm.
Coordinates
RT90: 6583280, 1627751

SWEREF99 TM: 6583101, 673462
WGS 84 (lat, lon): N 59° 21.054', E 18° 3.061'

WGS 84 decimal (lat, lon): 59.35090, 18.05102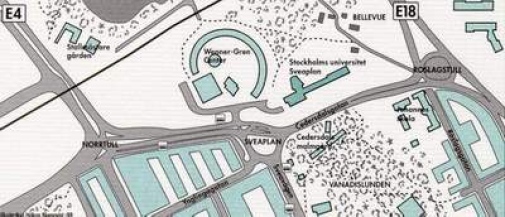 The house at Sveaplan as seen from the roundabout. Photo: Ingrid Tinglöf